FAPI-PET can visualize changes in the joints of patients with rheumatoid arthritis (RA) and appears promising as a tool for monitoring patients undergoing treatment, according to a study published February 28 in Radiology.
A group led by Dr. Yaping Luo of the Chinese Academy of Medical Sciences and Peking Union Medical College Hospital in Beijing studied the performance of gallium-68 (Ga-68) fibroblast activation protein inhibitor (FAPI) PET/CT for assessing joint disease activity in RA patients. The team found that the approach revealed a greater amount and degree of affected joints than F-18 FDG-PET/CT imaging.
"Physical examination and patient self-reporting may lack reproducibility in clinical practice. Instead, imaging can serve as a reliable, reproducible, and objective indicator of synovitis and disease activity," Luo and colleagues wrote.
F-18 FDG-PET targets glucose hypometabolism and has proven effective for imaging inflammation in joints of people with RA. Yet researchers are exploring whether FAPI-PET may be more accurate, as the tracer has shown recent promise in animal studies. Specifically, the approach reveals the overexpression of fibroblast-like synoviocyte cells in the soft tissue lining of affected joints, the group wrote.
In a pilot study, the researchers enrolled 20 participants with RA (15 women; mean age, 55) between September 2020 and December 2021. Patients underwent clinical and laboratory assessment of disease activity and both Ga-68 FAPI-PET/CT and F-18 FDG-PET/CT scans. The number of joints positive for RA were compared between the techniques.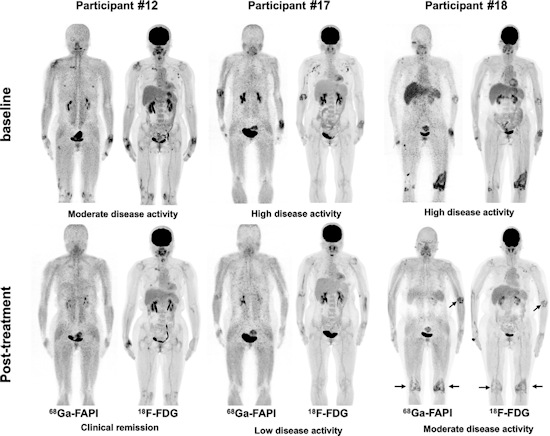 Pre- and posttreatment PET/CT in three participants with different responses undergoing tight control treatment. Participant #12 is a 55-year-old woman with a one-month history of rheumatoid arthritis (RA) who was treated with methotrexate, etoricoxib, tripterygium wilfordii, and iguratimod. Participant #17 is a 53-year-old woman with a one-year history of RA who was treated with methotrexate and etanercept. Participant #18 is a 55-year-old woman with a 19-month history of RA who was treated with methotrexate, etanercept, and tripterygium wilfordii. There is residual active uptake of Ga-68 FAPI and F-18 FDG radiotracers in three major joints six months after treatment in participant #18 (arrows). Image courtesy of Radiology.
The combined output of both PET/CT techniques helped detect 244 affected joints. However, fifteen of 244 (6.1%) FAPI-avid joints in six of 20 (30%) participants were not detected by F-18 FDG-PET/CT, the researchers found. Moreover, the maximum standardized uptake value of radiotracer in the most affected joint was significantly higher on Ga-68 FAPI-PET/CT images than on F-18 FDG-PET/CT (9.54 vs. 5.85), the researchers wrote.
In addition, three participants underwent follow-up Ga-68 FAPI and F-18 FDG PET/CT after six to 10 months of treatment, with two participants with a good response and remission of the disease showing reduced uptake of the radiotracers in their joints.
"These results suggest that further studies are warranted to clarify the role of Ga-68 FAPI in measuring disease activity in participants with rheumatoid arthritis," the group concluded.
In an accompanying editorial, Dr. Hadyn Williams and Dr. Mark Ahlman of the Medical College of Georgia in Augusta noted that Ga-68 FAPI is not yet among PET radiotracers matched with therapies, as F-18 FDG is with diseases involving glucose hypometabolism. Others include Ga-68 DOTATATE in patients with neuroendocrine tumors and several F-18-labeled tracers in Alzheimer's disease (amyloid PET scans).
This could change, provided additional research, particularly given that the cells Ga-68 FAPI targets in RA are mesenchymal-derived cells so that their inhibition by potential therapies may be performed without immunosuppressive consequences for patients, they wrote.
"Although not yet clinically available, Ga-68 FAPI could have a similar role in RA diagnosis and could serve as a baseline for stringent monitoring of therapy response requiring crucial adjustments," they concluded.